We aim to achieve zero work-related accidents, and advance comprehensive and systematic safety measures.
We promote the formation of a comfortable workplace environment, while securing employee safety and health.
We comply with all related laws and operating procedures, and create workplaces with clear lines of responsibility concerning occupational safety, traffic safety, and occupational health, as well as safety and disaster prevention.
Under the above Basic Policy, through providing safety and health education, we raise the awareness of each employee and promote the creation of a corporate culture that places the highest priority on safety and health.
At Air Water, we have established a Central Safety and Health Committee to secure workplace safety and health. The committee meets regularly under the supervision of the director of the Safety and Health Management Headquarters.
The Safety and Health Management HQ director selects the supervisory executives, and is responsible for governing safety and health groupwide, and for eliminating work-related accidents. The assistant director of the Safety and Health Management Headquarters appoints the general manager of the Compliance Center, and assists the director.
In addition, committee members responsible for safety management and health, and the heads of the various safety and health departments, form the Central Health and Safety Committee, and labor union representatives also participate to reflect the workforce's views in proceedings. The central committee meetings minutes are disclosed internally to ensure broad dissemination of information.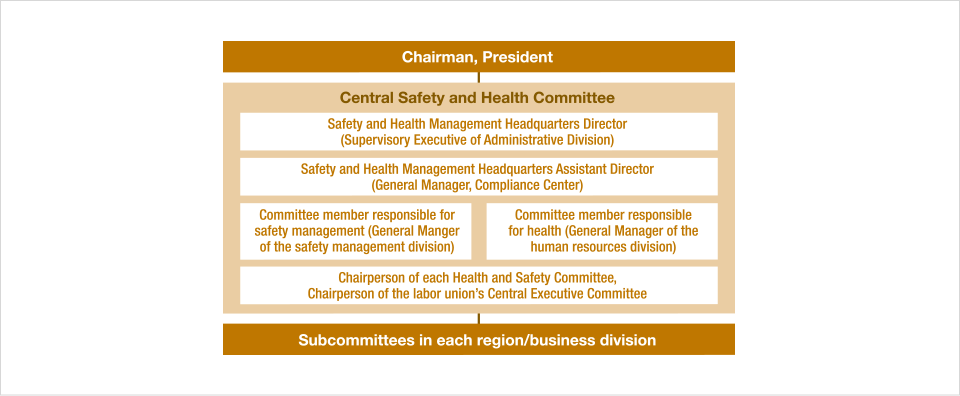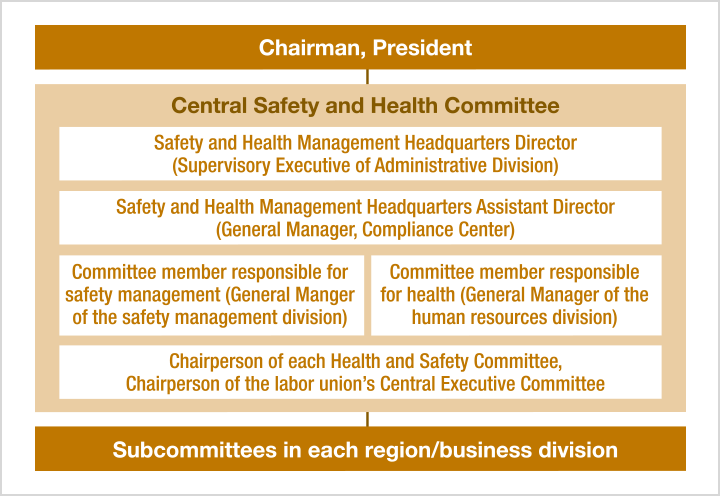 No company can thrive without a safe, secure work environment, and workplace safety is our overriding priority. To illustrate our commitment, we established a target for work-related accident reduction: to keep the number of accidents associated with days away from work per million work hours at 0.90 or less by fiscal 2021. This figure was reached in light of the Ministry of Health, Labour and Welfare's work-related accident statistics, the size of the Air Water Group's workforce, and the nature of the businesses we are involved in.
In fiscal 2018, the group's priority focus was on preventing work-related accidents involving falls. Initiatives to reduce accidents included the following.
1.Training
Technical safety training and safety staff training
Training for staff in charge of safety at workplaces with high accident rates
Risk assessment training
Safety awareness training for new recruits
2.Reducing Traffic Accidents
Set and revise rules for vehicles and safe driving
Traffic safety meetings and administrator seminars at companies with a high accident risk
3.Preventing Repeats of Similar Accidents
Lateral sharing of work-related accident information via safety information bulletins
4.Safety Audits
Safety and security audits
Special audits of workplaces where accidents occur
Safety diagnoses of manufacturing workplaces by independent experts
At the Air Water Group in fiscal 2018, there were 83 accidents associated with days away from work, roughly similar to the previous year (84). The frequency rate* of such accidents was 1.72, an improvement over the previous year (1.88).
*The number of people involved in accidents resulting in death or injury per one million total working hours.
Frequency rate=(Deaths and injuries resulting from work-related accidents/Total working hours×1,000,000)
<FY2018 Analysis and Priority for FY2019>
At Air Water, some 21 percent of work-related accidents associated with days away from work in fiscal 2018 involved falling. This was due to an increase in falling accidents in the transport business. In fiscal 2019, we are working to identify tasks and locations prone to falling accidents, and are carrying out risk assessments to find ways to reduce those risks.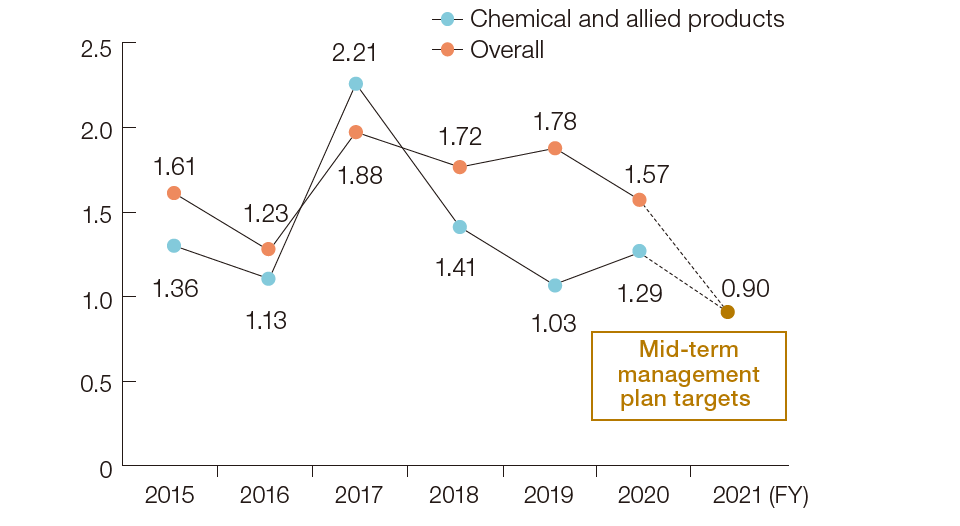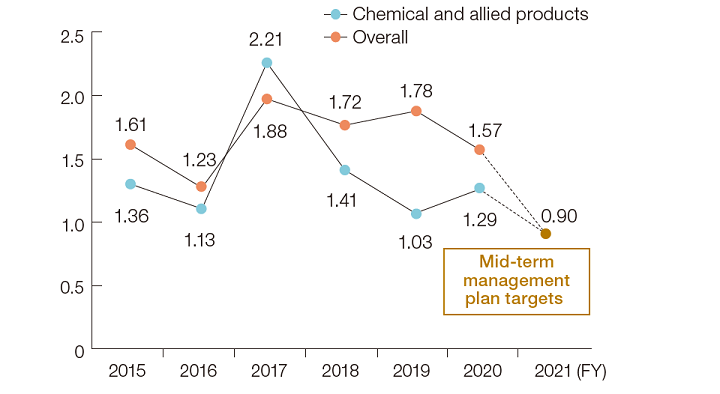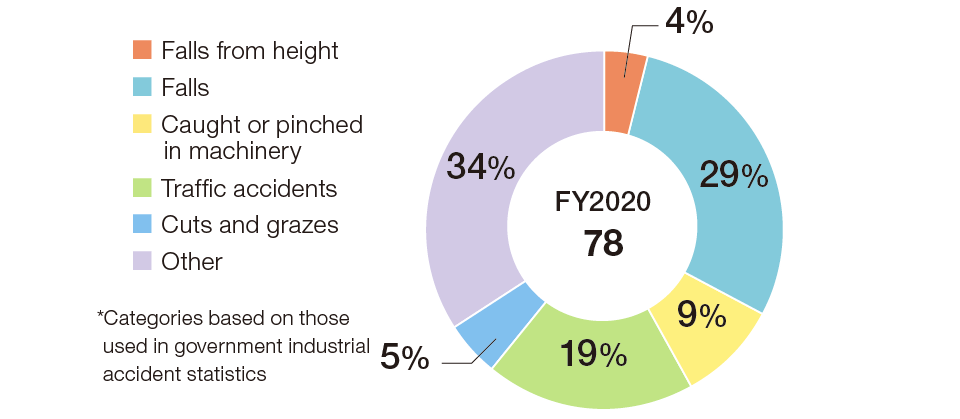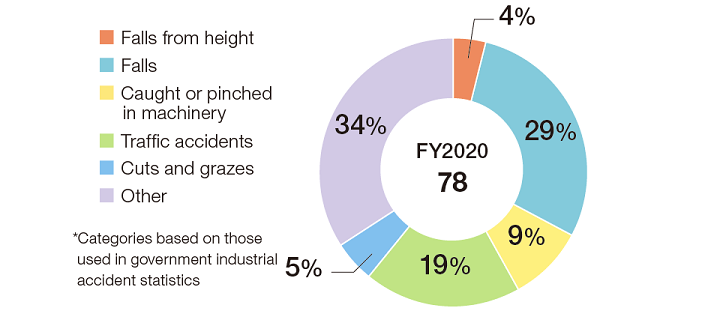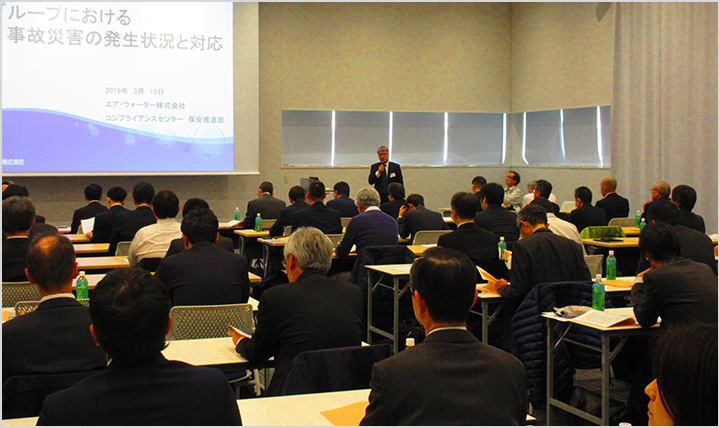 Air Water offers various training programs related to safety. We conduct safety staff training with the Group's staff members in charge of safety and health as well as technical training on high-pressure gas safety for employees who work with high-pressure gas every year. In fiscal 2018, training was also held on preventing human error to reduce human risk associated with unsafe activities, on risk assessment for chemical materials, and on preventing falls, and so on.
On the occasion of National Safety Week, which is held every July, Air Water solicits "safety slogan" proposals from all employees, including employees at Group companies, in order to raise awareness around safety. This contest provides a good opportunity for employees to think about safety at work and at home, and in fiscal 2018 there were 7,556 proposals submitted. An award is given for the best entry, and the slogan is displayed on safety posters in each workplace. In addition, the company with the highest entry rate and the company that provided the largest number of proposals are given awards for excellence in safety and health within the Group, with the aim of commending company-wide positive activities.
Air Water distributes "Safety Information," which includes information on topics such as accidents that have occurred within the Group and promotes activities for occupational safety and health at each workplace, through the corporate network. In the event of the occurrence of an incident associated with days away from work, which is often a trigger for a major or serious accident, we immediately carry out risk analysis of the incident and document the direct causes and countermeasures for recurrence prevention, and disseminate the information throughout the Group.
The sharing of information among employees helps increase awareness about the working environment and promote the spread of workplace improvement activities, thus leading to prevention of similar accidents. In fiscal 2018, the publication was issued 51 times.
<Involvement of the Labor Union in Safety and Health>
In addition to participating in the Central Safety and Health Committee meetings, the Air Water Labor Union holds the Group Safety and Health Exchange Meeting every year to improve safety and health awareness among the Group. In fiscal 2019, the meeting was held in May at the Kumamoto Plant of our subsidiary Nipponkaisui Co., Ltd.
Other initiatives of the Air Water Labor Union include checking the implementation status and details of the Central Safety and Health Committee meetings, requesting improvements to the company and implementing the appropriate management of working hours in collaboration with labor and management to achieve safety and health improvements mainly focused on employees.