Air Water Group uses a great deal of natural resources, such as water and raw materials, in the manufacturing processes, which produce industrial waste. For this reason, we are working to promote the effective use of resources through various efforts including reusing valuable water resources and reducing industrial waste by practicing the three R's (reduce, reuse and recycle).
At the Air Water Group, our manufacturing processes rely heavily on water.
Around 90% of the water we use is seawater, an almost infinite resource. Further, Nihonkaisui and Air Water account for more than 80% of the group's water usage.
Nihonkaisui uses seawater to produce table salt, while Air Water uses seawater to cool compressed air when producing industrial gases such as oxygen, nitrogen, and argon at the Kashima Plant. Although this seawater doesn't come into contact with any chemical substances and is thus almost never contaminated, based on the Water Pollution Control Act we analyze water quality and confirm its safety before releasing it back into the sea.
Having upgraded the pure water generation equipment at its Ako Plant, in fiscal 2019 Nihonkaisui reduced its tap water usage by approximately 10%. In fiscal 2020, Nihonkaisui begun work to reuse drain water—a product of the steam used for salt production—to cool its Ako No. 2 Biomass Power Station. This reused coolant is equivalent to around 1% of the Air Water Group's annual freshwater* usage.
Further, the distilled water generated through salt production at Nihonkaisui's Sanuki Plant is utilized as a freshwater resource to produce safe drinking water. This drinking water is sold as AW Water through our water delivery service. Moreover, as the product started as seawater, there is no risk of depletion, and we can continue to ensure a stable supply going forward.
*Tap water, industrial water, and groundwater
Gold-Pak is the Air Water Group's producer of beverages for major drink companies, and we focus mainly on making drinks in cans, paper cartons, and plastic bottles. Beverage production involves the use of huge volumes of groundwater, so we are careful to use that precious resource as efficiently as possible.
For instance, the Azumino Plant uses the same water three times. First, groundwater is used for air conditioning as it maintains a steady temperature all year round, but it is still clean after that, so it is reused in the beverage chilling process, and reused again at the wastewater treatment plant. Water from other sources is also reused to eliminate waste. For instance, clean water from the production process is reused in boilers.
We are dedicated to making the most efficient use of resources possible to ensure our business is always in harmony with the natural environment.
The Air Water Group makes efforts to reduce waste through practicing the 3Rs (reduce, reuse, and recycle), and properly monitors the amount of waste discharge. In addition, we conduct appropriate disposal in accordance with the Waste Disposal Act, which includes entrusting disposal to contractors certified by the government authorities.
In fiscal 2019, we saw an increase in the amount of industrial waste discharged due to a temporary increase followed by the disposal of PCB waste that has been stored at our industrial gas plants and an increase in sludge due to the increased production at our seawater plants. We recycled this increased sludge to ensure that it is effectively used as a secondary material for material manufacturers to avoid affecting the remaining capacity of final disposal sites.
Scope of collection:Plants identified as business operators discharging a vast quantity of waste under the Waste Disposal Act in 2018
FY2015:7 companies and 11 plants, FY2016~2017:8 companies and 12 plants, FY2018:9companies and 13 plants, FY2019:11companies and 16 plants
The food waste generated through agriculture and the production of food products at the Air Water Group's plants is recycled according to Japan's Food Recycling Law. Our food recycling rate exceeds the 95 percent target set by the government, and thus we are making steady contributions to a recycling-oriented society.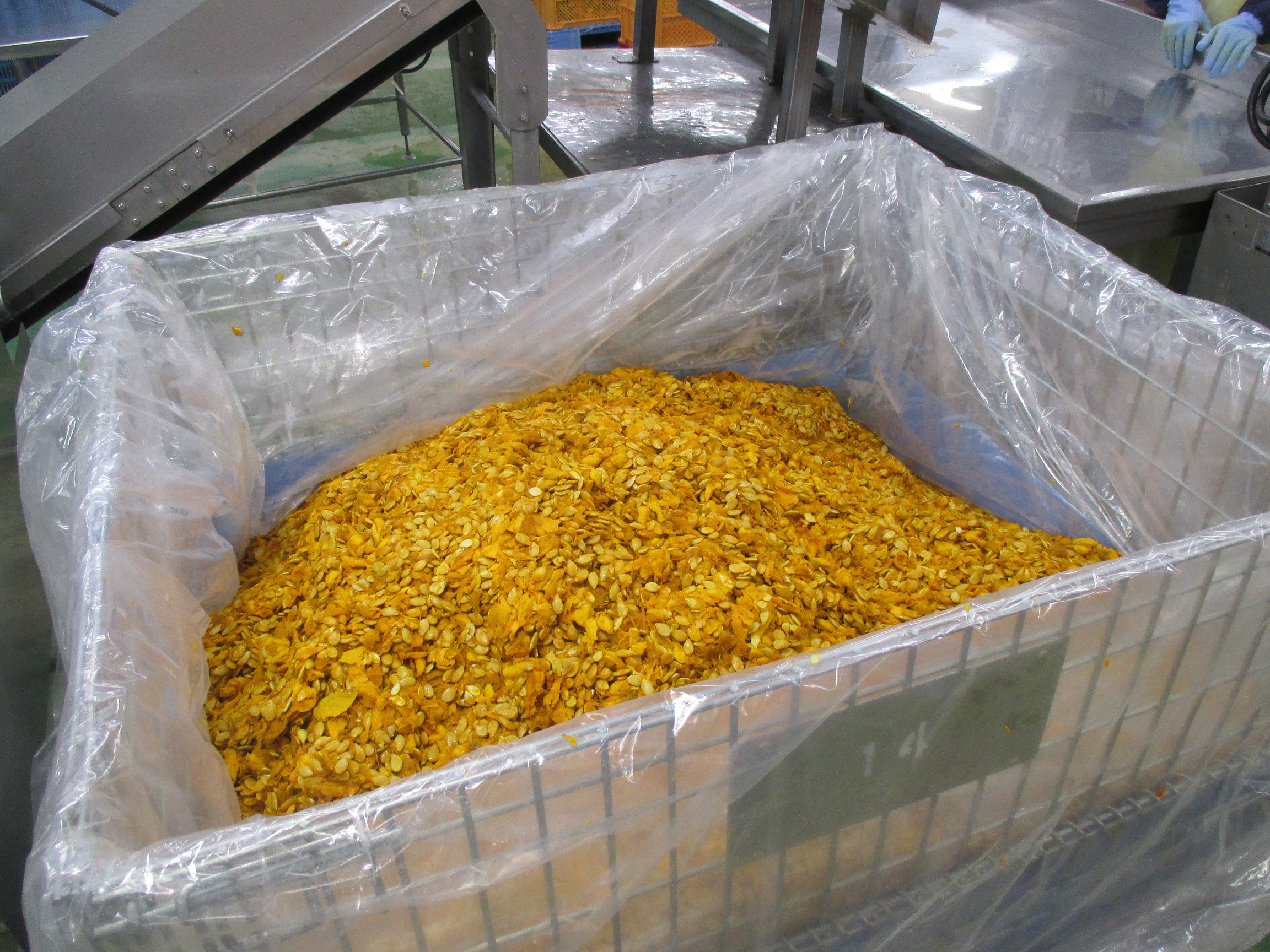 Air Water has been working to develop a methane fermentation plant which uses food waste from the production of agriculture and food products. Since September 2018, we have been carrying out tests at a demonstration plant. Currently, we are reusing food waste such as coffee grounds and the discarded portions of apples from two manufacturing plants of Gold-Pak (a group company engaged in the contract production of beverages based in Azumino and Matsumoto, Nagano Prefecture) to generate biogas. In the future, in addition to food waste, we hope to use crop stems and other agricultural waste to generate biogas which can be used for power generation or as boiler fuel. We also plan to treat and use the fermentation residue. In fiscal 2022, meanwhile, we plan to open a commercial methane fermentation plant which we forecast will be able to treat more than 10 tons of waste per day, more than ten times our current capability. With the cooperation of our local communities, we will continue to look for ways to make effective use of agriculture and food waste.
At Tomiichi, we turn potatoes, pumpkins, daikon radishes, and other produce from Hokkaido into processed foods for sale nationwide.
Making pre-cut vegetables, for instance, inevitably leaves large volumes of offcuts and other waste, so we are serious about finding ways to use these effectively. In FY2019, we recycled fully 100 percent of food waste as compost. In fact, we have achieved 100 percent recycling for the last seven years, and we are determined to continue making efficient use of resources by recycling food waste.