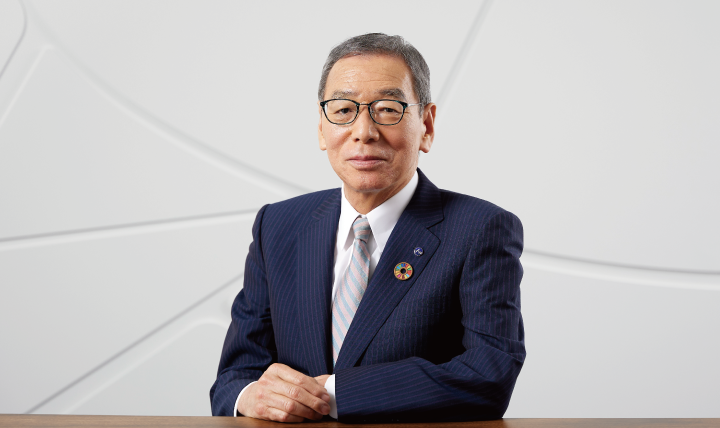 The Japanese economy in the consolidated fiscal year ended March 31, 2020 was on a gradual recovery trend during the first half of the fiscal year, backed by improvements in the employment environment and a pickup in consumer spending. However, in the second half of the fiscal year, the economic recession became clear due to the slowdown in production activities and facility investments in the domestic manufacturing industry, particularly export-oriented industries resulting from the protracted U.S.-China trade conflict.
In such a business environment, our three-year mid-term management plan "NEXT2020-Final," the first year of which is fiscal 2019, was launched with "Reform = Execution of innovations" as a basic concept. Under the plan, various implementation measures were steadily promoted in each business field, together with the reinforcement of our management bases, including the strengthening of our product development capabilities and the development of human resources to achieve future sustainable growth. Domestically, we have expanded the stable business base by our industrial gas business expanded its production and filling sites, chemical business reconstruct its business and steadily promoting the expansion of our wood biomass power generation business. In overseas, we worked to build our operational bases for future growth through M&A acquisition of industrial gas businesses and high-power UPS (uninterrupted power supply) business in India, where high market growth is expected.
As a result, for the consolidated fiscal year ended March 31, 2020, the group's revenue was ¥809.1 billion, operating profit was ¥50.6 billion, profit was \33.5 billion, and net profit attributable to shareholders of the parent was ¥30.4 billion. With regard to revenue and all profits, our group achieved the highest performance ever.
In fiscal year ended March 31, 2021, the global economic stagnation caused by the coronavirus will affect our group, however, our corporate group will concentrate our efforts to reduce costs across all businesses. We will continue to take thorough steps to prevent the spread of the infections and to consider safety in order to fulfill our responsibility of ensuring a stable supply of our products, including our industrial gas and medical gas, while giving maximum consideration to the protection of all of our group's employees. Also, in order to maintain sufficient financial stability in preparation for situations in which the stagnation of economic activities protracted, we will carefully select future M&A and facility investment projects by cautiously monitoring changes in the business environment.
Our corporate group operates various businesses that support the lives and daily lives of the people, including industrial and medical gas businesses, as well as energy, agriculture & food products, logistics, and medical & hygiene businesses. I believe that these businesses will be able to demonstrate their true worth in terms of both economic and social values, precisely because we are in a critical situation called a pandemic.
Various changes caused by the impact of the coronavirus will also bring a major shift in existing concepts of values and in the business paradigm. While developing a sensitive receptivity to societies that are experiencing a significant transformation and to changes in business, we will promote our growth strategy that takes full advantage of "the comprehensive power of our diverse businesses," which is the greatest strength of our corporate group.
We also take this timing as a great opportunity for business transformation and are determined to work on corporate culture reforms that sweep away established concepts. These examples will include the promotion of introducing the IoT to plants in manufacturing areas to achieve a thorough improvement in productivity, the promotion of marketing and operating activities that do not require employees to come into the office utilizing digital tools in sales and marketing areas, and the promotion of "data management" in administration areas in which work is carried out based on data.
Through these cultural reforms, we aim to become a company which can survive in this new era.
AIR WATER INC. Chief Operating Officer