Since its founding, Air Water has combined its diverse air and water technologies, proprietary business models, and expertise to provide a stable, sustainable supply of invaluable products, services, and solutions that have become essential to people's lives and industry.
Here we introduce the Air Water Group's management resource strengths and growth strategies.
We introduce our unique strengths that we have built up over the years through our diverse business activities.
Through an optimally balanced business portfolio covering "Global Environment" and "Wellness", we are able to achieve stable growth in any given environment.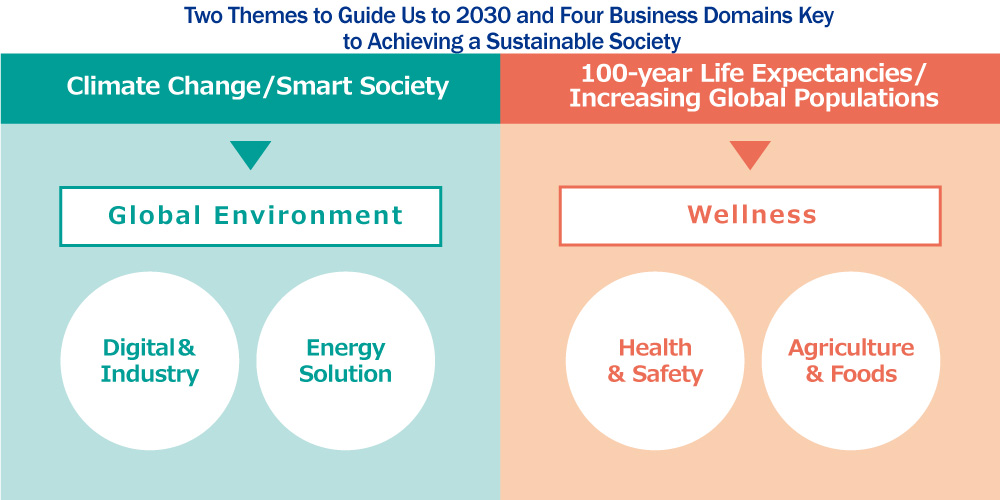 Market-leading products and services in each of our business domains help to generate the earnings that allow us to make growth investments.

Our nationwide network of business sites allows us to drive growth strategies forward by combining locally rooted businesses with diverse business domains.

The technological resources we have accumulated through our diverse business domains allow us to add value to products and services and provide solutions that meet customer needs.

The Air Water Group is home to individuals with diverse experience and expertise. These individuals are utilizing their diversity to play active roles in a corporate climate that brings together an array of corporate cultures.

The Air Water Group pursue future growth through four pillars: domestic regional strategy, overseas strategy, technology strategy, and M&A strategy.
Air Water Group's regional business company system began in 1995, when we established central sales companies in each region and began sales of predominantly industrial and medical gas, developing our business to cater to local communities.

To ensure sustainable growth as domestic markets continue to mature, it is paramount that we take in customer needs from a much closer position, and really consider the needs of the market as we advance our business. Using our community-oriented business foundations, and through careful organization of our diverse technologies, products, and services, we can create new businesses that respond to local issues and demonstrate the true value of the Air Water Group.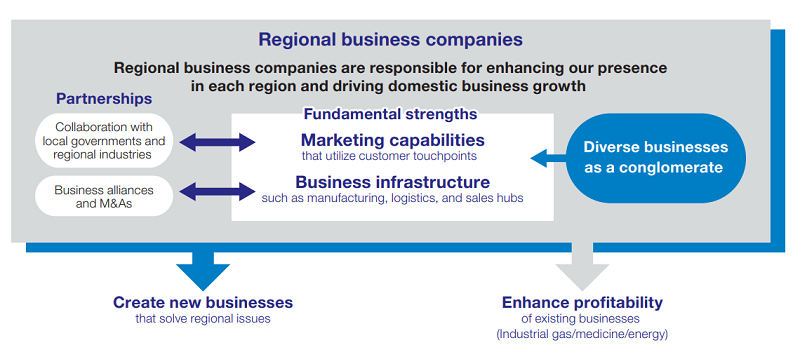 Air Water's basic policy moving forward is to reinforce the profitability of its domestic businesses through regional strategies and the combination of its diverse business domains, and to make use of this strong profit base to implement investment strategies that will help grow its global businesses. We anticipate growing markets and high profitability in our global businesses and will use them to drive overall growth.
In the same way as in Japan, underpinned by our industrial gas and engineering businesses—which are fundamental to ensuring a robust profit base and business diversification—we will collaborate with knowledgeable local partners to create new businesses that utilize our technologies and business models to pursue business expansion. We have already secured a business foundation and generated profits in our industrial gas business in India and our engineering business in the US. Elsewhere, we will focus on the rapidly growing high-power UPS business and, following on from the success of our industrial gas business, the medical business

We promote "internal open innovation" by bringing together R&D, engineering, and other technological resources through the creation and utilization of a common group platform. We aim to strengthen product development capabilities and create new technologies. There are more than 34 R&D departments in the Air Water Group, with each undertaking research and development in a wide range of fields.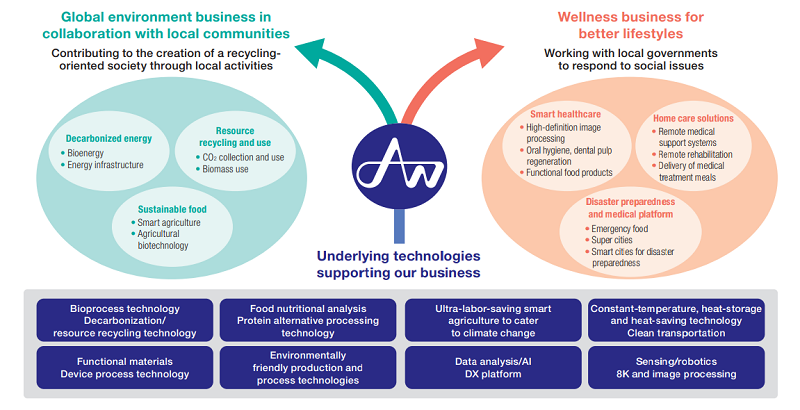 For Air Water, the M&A process if not a process of simple "addition" but rather a process of "multiplication" filled with infinite possibilities. We see M&A as a way of succeeding to the technology, knowhow, and the business contacts and relationships of another company in one fell swoop, in other words, buying the "time" spent and the "human resources" nurtured by that company.

Since 2000, a total of 224 companies have joined the group through mergers and acquisitions. (As of March 31, 2021)

Our strategy is to share the Air Water Group's Management Philosophy and Action Guidelines with every target company, while at the same time respecting its independence, with a view to successfully integrating the organizational climate, human resources and technologies of each target company into the Group, capturing synergies and creating new value.
Major M&A Achievements
・Capital participation in Tateho Chemical Industries and making it a wholly owned subsidiary. Became a wholly owned subsidiary of Nihonkaisui (entry into seawater business)
・Acquisition of Tokyo Aerosol Chemicals (strengthening the aerosol business)
・Acquisition of Snow Brand Foods Hokkaido Factory (entry into food business)
・Capital participation and TOB in Kawasaki Safety Service Industries, making it a wholly owned subsidiary (entry into medical equipment and fire protection business)
・Capital participation in Gold Pack (entry into beverage business)
・Capital participation and TOB in Kawasaki Kasei Kogyo, a wholly owned subsidiary (expansion of chemical business)
In line with its purpose—Meeting Society's Needs with Nature's Blessings—the Air Water Group will utilize its diverse management resources to continue generating value. By providing solutions to society's problems through our businesses, we hope to work with local communities to create a global environment that promotes recycling. We will also aim to further health maintenance in today's aging society and promote social wellness in other ways.