Air Water (hereinafter the "Company") is pleased to announce that Air Water India Private Limited (Managing Director: Kazuo Michitani; hereinafter "Air Water India"), its wholly owned subsidiary, has awarded a contract by Steel Authority of India Limited (SAIL), a state-owned steelmaking company, for on-site gas supply to its Durgapur Steel Plant in eastern India. Moving forward, the Company will proceed with the design and Manufacturing of a state-of-the-art large cryogenic air separation plant, with the leading role played by its engineering divisions in Japan, the United States, and India, with the gas supply commencing in October 2025.
1. Significance and outline of the project
The Company positions its overseas industrial gas business as a driver of the Company's overall growth, for which it believes that especially India will play a particularly important role from a strategic point of view. The Company is building a network of manufacturing, transportation, and sales infrastructure in India, with a view to expanding its overall business in the country with a focus on the business of on-site gas supply to steelmakers. As part of this, Air Water India has been engaged in proposal activities, aiming to receive orders for on-site gas supply projects for steelmakers.

The Company possesses comprehensive functions for the development, design, Manufacturing, operation, and maintenance of cryogenic air separation plants, which are indispensable for gas supply. The Company also produces gases meticulously and highly efficiently and supplies them stably to major steelmakers in Japan. It has thus been developing its expertise with a track record of half a century since the early days of the oxygen steelmaking process. In recent years, the Company has strengthened its engineering divisions in the United States and India and has been building a globally plant engineering system.

In this project, the Company will design and produce critical equipment in Japan and the United States, where it has an extensive track record in the manufacturing of large plants. At the same time, the Company will cooperate with its local subsidiary in India, which will engage in construction work including the procurement and installation of general equipment. With this project, the Company will realize a cost-competitive gas supply to SAIL under a global engineering system.
The Company understands that the contract was awarded this time because SAIL, a state-run steelmaking company of India, highly evaluated the Company's long track record in on-site gas supply to steelmakers and its presence in India as an industrial gas manufacturer.

In addition, it is the first project of a large cryogenic air separation plant that the Company has awarded in India. At the same time, it will be the third on-site gas supply base in India, following one for Tata Steel (Jamshedpur plant in the east) and the one for JSW Steel (Bellary plant in the south). With this project, the Company has begun to take steady steps toward the significant growth of its business in India.
2. Overview of the new plant
Name: Air Water India Durgapur On-site Plant
Location: Durgapur, West Bengal (adjacent to Durgapur Steel Plant of SAIL)
Manufacturing items: Oxygen, Nitrogen and Argon
Oxygen Manufacturing capacity: 1,250 tons/day (Approx. 36,500 Nm3/hour)
Amount of capital investment: 13.5 billion yen
Commencement of construction: September 2023
Launch of operation: October 2025 (plan)
*The gases to be produced at this plant will be supplied to the steel plant via pipeline. Some will be liquefied and sold to customers in the surrounding area via tanker trucks and others.
3. Steel market and our business strategy in India
The economic growth rate of India is expected to remain high, reflecting brisk domestic demand backed by the world's largest population (approx. 1,428,600,000 people). In addition, the government of India is investing in infrastructure including roads and construction and promoting the automotive and other manufacturing industries. In particular, it has set a target of expanding annual crude steel Manufacturing capacity to 300 million tons, which is more than double the current level, by FY2030.

India is a country producing iron ores and coals as steel resources. With these strengths, steel Manufacturing in India exceeded 100 million tons in 2017 and exceeded the Manufacturing in Japan in 2018, being the second largest in the world following China. In addition, while supply chains are being reviewed globally, India is also attracting attention as a new manufacturing hub. Further, exports are also expected to increase due to Manufacturing of high-performance steel. Consequently, the steel market is anticipated to continue to achieve remarkable growth and demand for industrial gases is most likely to be brisk.

In this environment, Air Water India is working to expand its business under the basic strategies of winning new projects for on-site gas supply for steelmakers and building a gas supply chain network through the expansion of its base. It plans to begin operating a new gas filling station in Faridabad, northern India at the end of FY2023. It also plans to commence operation of a liquified gas manufacturing plant that uses renewable energy such as sunlight to provide approximately 40% of the electricity used in Chennai, a metropolitan city in southern India, in October 2024.

The Company will continue to make capital investments that are commensurate with demand, thus expanding its business area across India to build a strong position as an industrial gas manufacturer. Moreover, in the near future, the Company will develop diverse businesses and technological capabilities, such as healthcare, environment and energy, and agri-food, based on its operating base for industrial gas supply. Thus, the Company will expand its business with an aim to increase the revenue to 100.0 billion yen, approx. five times the current level, by FY2030.
4. Contribution to strengthening relationship between India and Japan
 The Japanese government is strengthening its ties with India, which held the G20 presidency in 2023 and is bolstering its presence as a leader of Global South, in political, social, security, and other domains. Among these domains, strengthening the economic partnership is a major focus of the two countries. Air Water, a Japanese company, will work on this major project with SAIL, a state-owned company of India. The Company believes that this project has significance for the economic partnership between India and Japan.

The Company will continue to contribute to India's economic development through its activities as a business partner that grows together with India itself. The Company will also address social issues, such as the creation of new jobs, the reduction of CO2 emissions, and improvement of the hygienic environment, thus contributing to the further development of India-Japan relations.
Reference: Business Location in India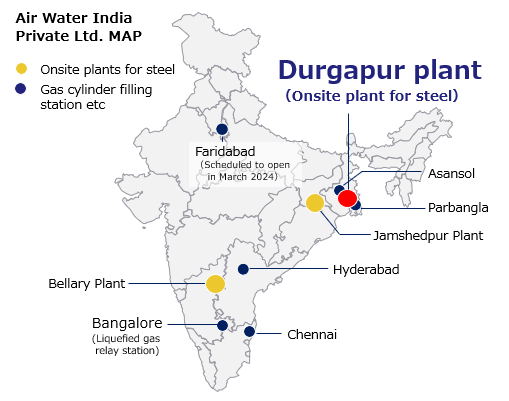 Reference: Company Overview
Name: Air Water India Private Limited
Address: Kolkata, West Bengal
Business description: Manufacture and sales of industrial gases, medical gases, and related equipment.
Net sales: Approx. 18 billion yen (fiscal year March 31, 2023)
Number of employees: 400
[Contact for inquiries]
Corporate Communications, Air Water Inc. E-mail:info-h@awi.co.jp