Air Water Inc. announced that its US subsidiary, Air Water America (head office: New Jersey, U.S.A.), has decided to construct the first air separation unit in Rochester, New York, in the northeastern United States. Thereby, Air Water America develop an integrated gas supply business from manufacturing to sales of industrial gases.
1. Overview of the new business
Air Water America has won a major nitrogen pipeline contract supplying RED Rochester, a utility serving customers located in Eastman Business Park (EBP) in Rochester NY. Air Water will construct a state of the art cryogenic air separation unit in EBP supplying customers in the park as well as the local market and the wider New York-New England area with nitrogen, oxygen, and argon market. The plan is to begin construction November2024 and start operations in September 2025. This plant will be the Group's first gas manufacturing base in North America, it means that the Group enters the gas selling business as an industrial gas company that handles everything from manufacturing to sales.

Prior to this, AW America acquired, in May 2022, Noble Gas Solutions, LLC, an independent welding supply and industrial gases distributor based in Albany, NY. Air Water America also supplied a state-of the art ASU in central Minnesota, to a local independent gas company. The ASU is designed and manufactured by Air Water and provides oxygen and nitrogen to Air Water's industrial gases sales in the midwestern US (started in March 2023).

Going forward, we will continue to expand our industrial gas supply business in North America by building our plant network as well as utilizing our sales resources and gas selling infrastructure, to build an integrated supply chain for industrial gases from upstream to downstream.

*Eastman Business Park is a big industrial park in Rochester, New York, USA. Formerly known as the Kodak Park, it houses a large number of manufacturing businesses for chemistry, bioscience, food and beverages, precision instruments, and others.

2. Overview of the cryogenic air separation plant
 (1) Construction site: Eastman Business Park, Rochester, New York, USA
 (2) Manufacturing items: Nitrogen gas for on-site use, liquefied oxygen, liquefied nitrogen, and liquefied argon
 (3) Manufacturing capability: 240 tons/day
 (4) Total investment: Approximately 4 billion yen
 (5) Start of construction: November 2024 (planned)
 (6) Start of operation: September 2025 (planned)
3. Industrial gas business development in North America
In North America, the industrial gas market exceeds 3 trillion yen. It is estimated to be about five times larger than the market in Japan. It is a market at the forefront of the development of new applications for industrial gases in the market and is generally ahead of other parts of the world. The US market provides an environment where businesses in advanced fields gather, including manufacturing businesses in the steel, automobile, and electronics industries and businesses engaged in cutting-edge technology including food and bioscience. Additionally, the demand relating to decarbonization is expected to grow remarkably in the future, including in carbon capture and hydrogen businesses. It is estimated that demand will grow both in scale and growth.

Since the commencement of business in North America in 2018, the Company has developed its business focusing on gas equipment and engineering while providing characteristic technologies and product families such as high-efficiency cryogenic air separation units and liquified hydrogen tanks. During this time, in anticipation of entering the industrial gas supply business, the Group has tried to increase the public's recognition of the group as an industrial gas company and built partnerships with distributors.

As for the development of our North American business, we will continue to expand our business development area through cooperation with local gas distributors, as well as establish our own gas manufacturing plants and build an integrated business infrastructure from manufacturing to sales of industrial gases.
Additionally, in North America initiatives for renewable energy and decarbonization are accelerating in response to reinforced measures to address climate change. The Company invested in FirstElement Fuel, Inc., the largest developer and operator of hydrogen stations in California and provided transportation equipment including liquified hydrogen tanks and trailers. In addition to these efforts to establish a hydrogen value chain, the Company will concentrate on the development of the gas and equipment markets related to hydrogen and decarbonization.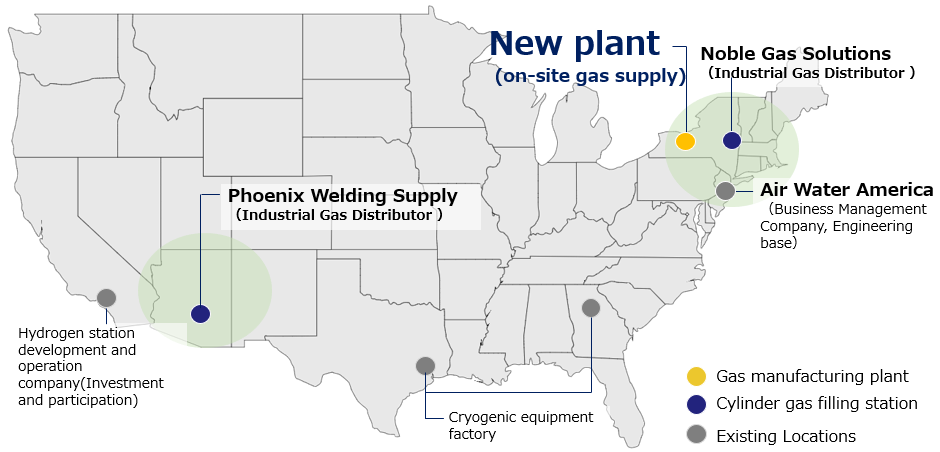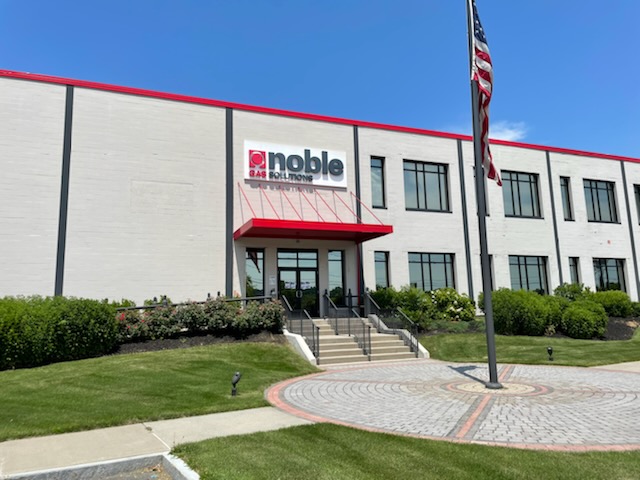 Corporate profile of Noble Gas Solutions, LCC.
 (1)Company Name: Noble Gas Solutions, LCC.
 (2)Head office: Albany, New York, the USA
 (3)Representative: Colleen Kohler
 (4)Establishment: 1952
 (5)Shareholder: Air Water America (100%)
 (6)Net sales: approx. 2.2 billion yen
 (7)Number of employees: 43
 (8)Business description: Distribution of a wide range of industrial gas and welding equipment
[Contact for inquiries]
Corporate Communications, Air Water Inc. E-mail:info-h@awi.co.jp