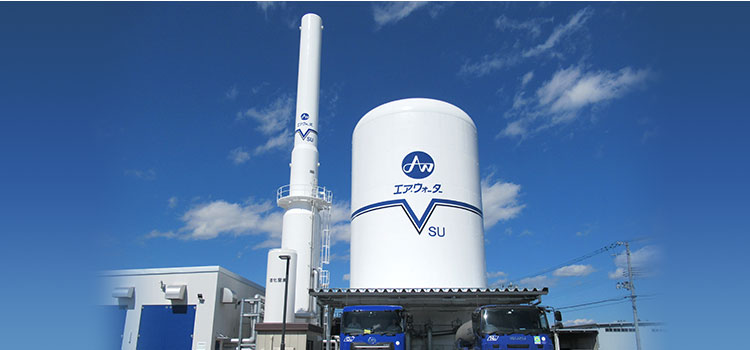 We satisfy a variety of industrial and everyday life needs with our industrial gas solutions.
The use of industrial gases is diverse. Its properties make it play a critical role in industries throughout the world, from steel, chemicals, electronics, and automobiles to glass, shipbuilding, construction equipment, paper manufacturing, food and beverages, medical care, agriculture, and outer space.
Air Water provides a stable supply of industrial gases such as oxygen, nitrogen, argon, and carbon dioxide to our customers throughout the country. We offer the optimum supply method for each of our customers' conditions of use, from single cylinder delivery to on-site production using gas generators. We also offer a varied lineup of gas applications and industrial equipment that effectively exploit the properties of industrial gases.
We provide a stable supply of a wide range of industrial gases to our customers nationwide. These include air separation gases, such as oxygen, nitrogen and argon, and carbon dioxide, hydrogen and helium. Ranging from the delivery of a single cylinder to the delivery of liquefied gas by tank lorries and on-site supply using gas generators, we offer the optimum supply method tailored to the needs and demands of our customers. We also operate an integrated production system from manufacturing to sales to serve our customers in India and Vietnam.
Gas Plant / Gas Generator
We offer various types of gas production equipment including air separation systems which produce gases by cooling air to cryogenic temperatures, PSA oxygen gas generator using an absorption agent, PSA nitrogen gas generator and hydrogen gas generators. We have an extensive line up of gas generators that meet our customers' needs and Gas Total System including maintenance and backup services that allow us to provide a stable supply of gas.
By effectively exploiting the properties of industrial gases, we develop and offer gas equipment and systems which contribute to increased production efficiency and enhancement of technologies. Our products are used for various applications in manufacturing, such as our cleaning system using finely ground dry ice particles to remove and clean foreign matters, a plasma generator offering stable production of plasma under atmospheric pressure and a freezer contributing to the safety of food processing.
We supply industrial equipment and offer welding solutions associated with welding and cutting, including argon-based shielding gases. We meet the demands of our customers by offering optimal technologies and systems ranging from various tools to frontier field including robots for their production sites requiring high-precision and high-efficiency.
We offer special gases used in the electronics field, such as semiconductors, liquid crystals and electronic components, and special chemicals used in the manufacturing process of silicon and compound semiconductors. We also develop special chemicals and offer related equipment and devices.
With the cryogenic air separation process as the core business, we offer integrated engineering solutions from the design, and manufacturing, to construction safety management and maintenance of industrial gas production apparatus, piping equipment and various gas applications.